Assalamualaikum wrth my fellow friends, 
Why do we need to recite this Surah Al-Kahf?
These are some benefits and virtues of Reading or Reciting Surah Al Kahf:
As Hadith of Prophet Muhammad (S.A.W.W) 
"One who memorized the first ten verses or ayyats of Surah Al Kahf will be secure against the Dajjal." (Sahih Muslim) 
" It is related from Abu Saeed Al-Khudri (RA) who said: "Whoever reads Surah Al-Kahf on the night of Jummah (Friday), will have a light that will stretch between him and the Holy Kabaah". (Daarimi)" 
Hazrat Ibn Mardwiyah Al Daiyaa (R.A) Said: "Whoever reads Surah al Kahf on Jummah, he is immune for 8 days from all fitnah that will happen. When the Dajjal comes out, he will be immune to him." (Al Mukhtaar) 
"Whoever reads Surah al Kahf upon the arrival of Jummah will have a light that will sparkle from him starting with one Friday then onto the next." (al-Jaami) 
Reciting Surah Al Kahf on every Friday becomes a source of forgiveness of sins committed between two Fridays. Surah al Khaf is one of the renowned Surah of Holy Quran. It comes with a lot of virtues. This Surah gives the message that Allah protects those who are stick to righteousness and stay on the right path. 
Every Muslim Men and Women try your best to Read Surah AL Kahf on the day of Jummah or on the night of Jummah. Also try to memorize Surah Al Kahf. 
May Allah protect all of us from the Fitna of Dajjal and forgive all of our sins. Ameen.
-------------------------------------------------------
At the same time, I am excited to announce that my new release, "Surah Al-Kahfi (Ayat 1-10) " which is now LIVE on major music streaming services starting 13 August 2021.  
You can listen now HERE: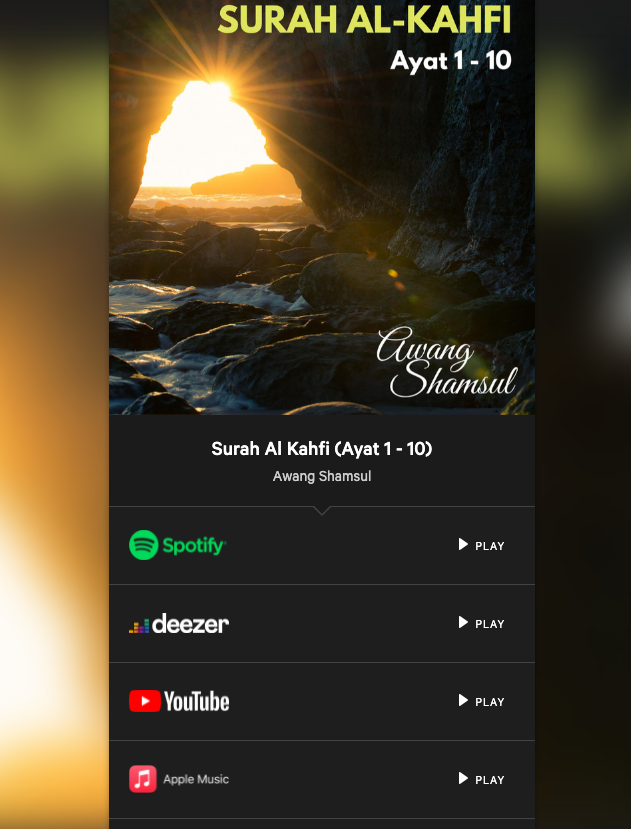 Please share this recitation to your family members and friends as well! Make sure to add this new song to your playlist. 
Jazakumullahukhair and thank you for the support. 
Awang Shamsul - https://awangshamsul.com